The presentation of the book "Mépris de classe. L'exercer, le ressentir, y faire face", by Pierre-Emmanuel Sorignet and Nicolas Spire, will take place on Thursday March 10th, 6-7:30 pm (CET). The debate, in French, will be held at the Paris School of Economics (R2.21).

Replay
SUMMARY OF "MÉPRIS DE CLASSE. L'EXERCER, LE RESSENTIR, Y FAIRE FACE"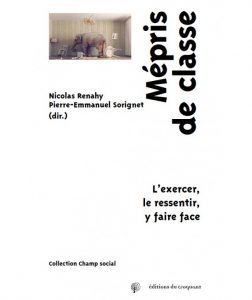 L'expression « mépris de classe » circule de plus en plus dans l'espace public pour désigner la disqualification symbolique que subissent des dominés – « sans-dents », « salariées illettrées », « fainéants », « syndicalistes voyous » – parfois même réduits au néant : « rien »… Au-delà de la dénonciation éthique des dominants dans le cadre des luttes politiques, que peut en dire la sociologie ? À distance du moralisme et sur la base d'enquêtes minutieuses, cet ouvrage évalue le caractère heuristique d'une telle catégorie d'analyse.
Le mépris appartient aux rapports sociaux propres à une société hiérarchisée et se manifeste de manières très diverses. En ce sens, il apparaît comme un révélateur de l'état de la structure sociale et des relations qu'y entretiennent les différentes composantes. Le mépris des uns ne remplit pas les mêmes fonctions que le mépris des autres : il ne peut être abstrait des relations de domination, qui le provoquent et lui donnent sens. Il renvoie à la verticalité du monde social : c'est lorsqu'un dominant se sent en danger qu'il rompt, par le mépris de classe, avec l'euphémisation usuelle de l'ordre des choses. Et son expression suscite, en retour, honte, rejet, violence ou quant-à-soi.
Cet ouvrage met en évidence l'ampleur et la variété de ses formes d'expression contemporaines, en fonction des contextes et moments considérés. Il livre différentes clés de compréhension des façons multiples d'exercer le mépris de classe, de le ressentir et d'y faire face.
ABOUT THE AUTHORS
The book is edited by Nicolas Renahy and Pierre-Emmanuel Sorignet. Nicolas Renahy is a sociologist at INRAE (CESAER, Dijon). Pierre-Emmanuel Sorignet is a sociologist at the Institute of Social Sciences (LACCUS, Lausanne).
With contributions from Amélie Beaumont, Hugo Bret, Éric Darras, Claude Grignon, Philippe Longchamp, Gérard Mauger, Gérard Noiriel, Romain Pudal, Frédéric Rasera, Nicolas Renahy, Pierre-Emmanuel Sorignet et Nicolas Spire.
EVENT DETAILS
📚 Nicolas Renahy and Pierre-Emmanuel Sorignet (dir.), Mépris de classe. L'exercer, le ressentir, y faire face, éditions du croquant, March 2021.
📅 Thursday March 10th – 6-7:30 pm (CET)
📍 Paris School of Economics (R2.21) and on Zoom. In any case, you need to register to the event via the form available at the top of the page.
🎙 The debate will be held in French.