This Debate on Equality will take place on December 1st, 6-7:30pm, and will be dedicated to the presentation of Libres et Égaux en Voix, by Julia Cagé. The conference will be held in French.
Summary of  "Libres et Égaux en Voix"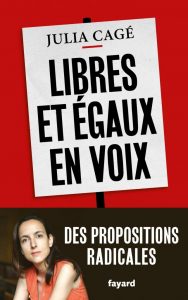 Seule une démocratie accomplie pourra nous permettre de traverser les épreuves en cours et à venir. Cet essai décapant propose des solutions pour refonder notre système de représentation politique, pour enfin faire advenir une démocratie où la voix de tout le monde comptera. La démocratie n'existe pas. Elle reste à inventer.
Loin d'être un refus de la politique, la crise actuelle de la démocratie représentative se manifeste par le combat de citoyens demandant davantage de démocratie, de participation et d'égalité.
Libres et égaux en voix propose ainsi
de donner une voix et des places à celles et ceux qui en ont été trop longtemps privés  : les femmes, les classes populaires, les minorités.
un nouvel équilibre entre la démocratie représentative et un usage raisonné du référendum.
de donner aux citoyens les moyens de reprendre le contrôle des partis, des médias et de la philanthropie, afin de dessiner un nouvel horizon politique égalitaire.
Watch the debate replay
About Julia Cagé
?  Julia Cagé – A former student of the Ecole Normale Supérieure and Harvard University, Julia Cagé is a professor of economics at Sciences Po Paris. She has published Sauver les médias (Seuil, 2015) and Le prix de la démocratie (Fayard, 2018) which received the Pétrarque prize for the essay Le Monde / France Culture.
Event details
? Julia Cagé, Libres et Égaux en Voix ,  Fayard, 2020
? Tuesday December 1st, 2020- 6 to 7:30 PM
? The conference is in French.