The presentation of the latest issue of "Regards croisés sur l'économie", by Philippe Askenazy and Sophie Bernard, dedicated to the role of labor wages, will take place on Wednesday October 20th, 6-7:30 pm (CET). The debate will be hold in French.

Replay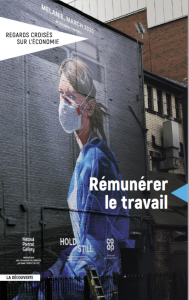 Summary of "Rémunérer le travail" – Regards croisés sur l'économie
Reproduite en couverture de cet ouvrage, une fresque célèbre les travailleurs de « première ligne » de la crise sanitaire de 2020. Ailleurs, les pancartes de manifestants rappelaient : « Les applaudissements, ça ne paye pas les factures ». Ces frictions témoignent des natures multiples et parfois concurrentes des rémunérations, monétaires et symboliques, du travail. Comment rémunérer le travail, et comment le rémunérer justement ? Toute activité doit-elle faire l'objet d'une rémunération ? Car rémunérer une activité en espèces sonnantes et trébuchantes l'arrache au domaine de la gratuité, tout en la signalant comme travail à part entière. À travers le prisme des rémunérations se laisse saisir le profond renouvellement des mondes du travail en cours : croissance historique des indépendants, migrations, nouvelles technologies, nouveaux cadres juridiques. À l'heure où la crise sanitaire a renouvelé les débats sur la hiérarchie des salaires et l'utilité des métiers, Regards croisés sur l'économie a invité économistes, sociologues, historiens, politistes, philosophes et juristes à interroger les frontières du travail et les conditions de sa reconnaissance.
About Philippe Askenazy and Sophie Bernard
Philippe Askenazy is an e

conomist of work and researcher at CNRS, Centre national de la recherche scientifique

and at ENS, École Normale Supérieure

.

Sophie Bernard is professor of sociology, specialized in sociology of work and employment.
Event details
📚 "Rémunérer le travail", Regards croisés sur l'économie, Vol. 27, October 2021.
📅  Wednesday October 20th, 2021 – 6-7:30 pm (CET)
📍 Paris School of Economics (Auditorium) and on Zoom.
🎙 The conference will be held in French