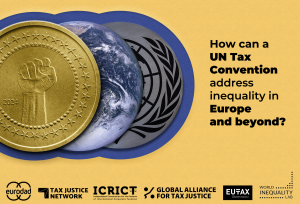 On Thursday 14 March and Friday 15 March 2024, a conference will bring together researchers, policymakers and civil society from across Europe and beyond, to discuss inequality and the global tax architecture.
Despite a decade of global tax reform,  the current tax rules fail to address inequality both within and between countries. In late 2022, the member states of the United Nations (UN) member states unanimously voted to launch intergovernmental discussions on proposals for a new international framework for tax cooperation under the auspices of the UN.
This two-day conference aims to explore the potential of a UN Tax Convention to:
supporting meaningful progress against tax abuse,
reducing inequalities within and between countries, and
strengthening the ability of states to respond to the climate crisis.
The conference is organized by:
EU Tax Observatory (EUTO)
Global Alliance for Tax Justice (GATJ)
ICRICT (Independent Commission for the Reform of International Corporate Taxation)
Tax Justice – Europe
Tax Justice Network
World Inequality Lab
📌 The event will take place in Paris School of Economics, 48 boulevard Jourdan Paris 14.
✍️ If you are interested in contributing to the conference and respond to the Call for Papers, please click here. The deadline for abstract submissions is Monday 23 October 2023.