Debate on equality – Join us for the presentation the issue #24 of "Regards croisés sur l'économie", on February 4, 2020, from 6 to 7:30pm. The conference will be held in French.
Summary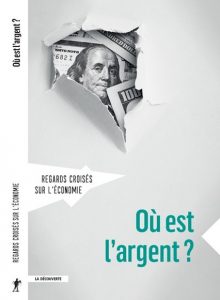 "Ce n'est pas en effet le moindre des paradoxes que de vouloir localiser un objet dont le caractère essentiel est de circuler continument. Pour autant, s'il circule, l'argent s'accumule également, et les inégalités économiques qui en résultent constituent aujourd'hui un enjeu considérable.
Si l'argent a longtemps été limité par certains courants des sciences sociales à un moyen d'échange, sa réalité nous apparaît aujourd'hui bien plus complexe. Véhicule du pouvoir, objet convoité et accumulé, l'argent et en particulier la monnaie, sont des notions éminemment politiques. Ses supports, toujours plus divers, changent ses propriétés économiques, sa géographie et font bouger les frontières de la fiscalité et des politiques publiques.
Alors où est l'argent ?
Dans un souci permanent de rendre accessible à tous les grands enjeux autour de cette question, sociologues et économistes présentent ici les toutes dernières avancées de la recherche, dans une synthèse inédite et enrichissante."
Event details
Contributors: Jérôme BLANC, Thomas BLANCHET, Jézabel COUPPEY-SOUBEYRAN, François-Xavier DUDOUET, Mehdi EL HERRADI, Nicolas FRÉMEAUX, Sybille GOLLAC, Nathalie HEINICH, Camille HERLIN-GIRET, Sébastien LAFFITTE, Ana PERRIN-HEREDIA, Christian PFISTER, Michel PINÇON, Monique PINÇON-CHARLOT, Sophie PITON, Delphine ROY, Alexis SPIRE, Henri STERDYNIAK, Gabriel ZUCMAN
Regards croisés sur l'économie, La Découverte, Jan. 2020
The debate will take place at the Paris School of Economics : 48 boulevard Jourdan, 75014 Paris – Room 02.21
The conference will be held in French.