The April debate on equality will be held in room R2-01 of the Paris School of Economics (48 boulevard Jourdan 75014 Paris, second floor) on April 9 2019, between 6pm and 7:30pm.
The debate will be dedicated to the presentation of Les Nouveaux Héritiers, by Nicolas Frémeaux. The book will be introduced by Thomas Piketty.
Nicolas Frémeaux is a professor at the université Paris 2. His research focuses on economic inequality and family economics.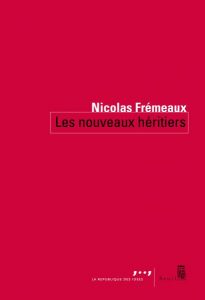 Back Cover: Depuis les années 1970, le poids des transmissions patrimoniales n'a cessé d'augmenter, pour se rapprocher des niveaux observés au XIXe siècle. Or non seulement l'héritage est très inégalitaire, mais son imposition a reculé dans la plupart des pays. Aujourd'hui, pour devenir riche, il ne suffit pas de travailler beaucoup ; il faut aussi hériter.
Cette évolution est contraire à l'idéal démocratique, qui réserve une place centrale au mérite. Vivons-nous encore dans une société moderne ? Pour réparer les inégalités successorales, on peut accroître la progressivité de l'imposition, développer la culture philanthropique et créer une dotation universelle alimentée par les recettes fiscales. Si l'héritage est de retour, il est urgent de le démocratiser.