The first of the two May debates on equality will be held on May 7 2019, from 6pm to 7:30pm.
The debate will be dedicated to the presentation of L'illusion du bloc bourgeois, by Bruno Amable and Stefano Palombarini, published at the Raisons d'Agir editions.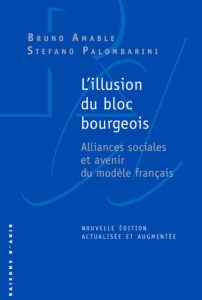 Back Cover: La crise politique française entre dans sa phase la plus aiguë depuis plus de trente ans, avec l'éclatement des blocs sociaux traditionnels, de gauche et de droite. L'éloignement des partis « de gouvernement » des classes populaires semble inexorable ; il laisse sur la touche, d'un côté, artisans, commerçants et petits entrepreneurs déçus par la timidité des réformes de la droite libérale et, de l'autre, ouvriers et employés hostiles à une unification de l'Europe des marchés à laquelle le parti socialiste reste attaché. La présidence Hollande est de ce point de vue moins une anomalie que l'échec définitif des tentatives de concilier la base sociale de la gauche et la « modernisation » du « modèle français ». Ce projet se prolonge désormais par la tentative d'édifier un « bloc bourgeois » fondé sur la poursuite des « réformes structurelles », destinées à dépasser le clivage droite/gauche par une nouvelle alliance entre classes moyennes et supérieures.
L'émergence, en réaction, d'un pôle « souverainiste », coexiste avec les tentatives de reconstruire les alliances de droite et gauche dans un paysage politique fragmenté. L'avenir du « modèle français » dépend de l'issue d'une crise politique qui n'est donc pas liée à des querelles d'appareils et encore moins de personnes, mais à la difficulté de former un nouveau bloc dominant. Elle est loin d'être terminée.
Paris School of Economics : 48 boulevard Jourdan 75014 Paris – room R2-01, second floor