The March debate on equality will be held in the amphitheatre of the Paris School of Economics (48 boulevard Jourdan 75014 Paris) on March 14 2019, between 6pm and 8pm.
The debate will be dedicated to the presentation of Inégalités mondiales. Les classes moyennes, les ultra-riches et l'égalité des chances, by Branko Milanovic. The book will be introduced by Christian Chavagneux, economic journalist at Alternatives économiques.
Branko Milanovic is senior scholar at the Luxembourg Income Study Center (LIS) and a visiting presidential professor at the City University of New York (CUNY). He was chief economist at the World Bank from 1993 to 2001.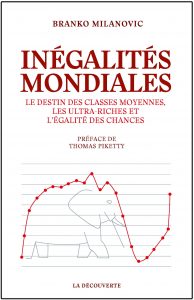 Back Cover: Branko Milanovic offre ici un panorama unique des inégalités économiques au sein des pays, et au plan mondial. Avec un talent pédagogique certain, il met en évidence les forces « bénéfiques » (accès à l'éducation, transferts sociaux, progressivité de l'impôt, etc.) ou « néfastes » (guerres, catastrophes naturelles, épidémies, etc.) qui influent sur les inégalités. Il identifie les grands gagnants de la mondialisation (les 1 % les plus riches des pays riches, les classes moyennes des pays émergents) et ses perdants (les classes populaires et moyennes des pays avancés).
Ce travail, fruit d'une analyse empirique sur une longue période et à grande échelle, permet notamment de comprendre les évolutions majeures de nos sociétés, comme la dérive ploutocratique aux États-Unis et populiste en Europe. Car Branko Milanovic est plus qu'un très bon économiste : tirant profit d'une culture historique et politique impressionnante, il montre l'imbrication des facteurs économiques et politiques (par exemple, pour expliquer les guerres ou les révolutions).
Devenu un classique dans de nombreux pays, cité dans maints débats, notamment pour son célèbre graphique en forme d'éléphant, cet ouvrage est enfin disponible pour le public francophone. Une lecture édifiante.
The Debates on Equality are monthly conferences held by the World Inequality Lab. Each conference is dedicated to the presentation and discussion of a newly published book in social sciences, in the presence of the author. They are held at the Paris School of Economics (48 boulevard Jourdan 75014 Paris) and are organized jointly by Thomas Piketty, Lucas Chancel and Amory Gethin.
➡ Please click here to register for the event