One of the two Inequality Debates of May will be held at the Oikos Amphitheatre of the Paris School of Economics (48 boulevard Jourdan 75014 Paris) on 14 May 2019, between 6.30 and 8pm.
The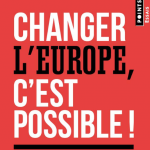 debate will be dedicated to the presentation of the book "Changer l'Europe, c'est possible!", in the presence of the authors Manon Bouju, Lucas Chancel, Anne-Laure Delatte, Thomas Piketty, Guillaume Sacriste, Stéphanie Hennette and Antoine Vauchez, and supported by more than 110 000 European citizens. The debate will be moderated by Tiphaine de Rocquigny, producer of the radio show "Entendez-vous l'éco" on France Culture.
Back cover (in French):
« Nous, citoyens européens venus d'horizons et de pays différents, lançons aujourd'hui un appel pour transformer profondément les institutions et les politiques européennes. Ce Manifeste contient des propositions concrètes, en particulier un projet de Traité de démocratisation et un projet de Budget, qui peuvent être adoptés et appliqués en l'état par les pays qui le souhaitent, sans qu'aucun pays ne puisse bloquer ceux qui souhaitent avancer. Il peut être signé en ligne (www.tdem.eu) par tous les citoyens européens et les citoyennes européennes qui s'y reconnaissent. Il peut être repris et amélioré par tous les mouvements politiques. »
Le TDem' propose de démocratiser la gouvernance économique et sociale de l'UE, de donner les moyens d'une régulation efficace de la mondialisation (en luttant contre les inégalités et en rétablissant le pouvoir des États de lever l'impôt sur les multinationales) et de permettre la transition vers un modèle équitable et écologiquement durable.
Ce traité peut être adopté très rapidement et dans l'état institutionnel actuel. Il constitue un véritable levier d'action politique immédiate. Il vient donc contredire le fatalisme qui voudrait que l'Europe soit irréformable en cette période d'élections européennes. Il vient également apporter une réponse à la crise française des « gilets jaunes » puisque la justice fiscale et l'investissement dans les services publics doivent trouver des réponses européennes pour être efficaces.
The book is published at Points publishing house.
Registration to the event : https://framaforms.org/inscription-changer-leurope-cest-possible-14-mai-2019-1556547126
More details on www.tdem.eu.
? Paris School of Economics : 48 boulevard Jourdan 75014 Paris – Auditorium