This Debate on Equality will take place on February 9th, 6-7:30 pm in the presence of Francesco Saraceno, for a presentation of his new book A European Public Investment Outlook. The conference will be held in English.
Zoom link to join the Debate: https://zoom.us/j/95165803687
Summary of "A European Public Investment Outlook", by Francesco Saraceno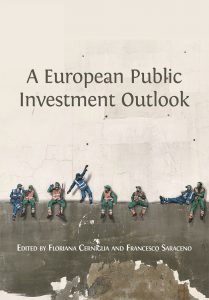 This outlook provides a focused assessment of the state of public capital in the major European countries and identifies areas where public investment could contribute more to stable and sustainable growth. A European Public Investment Outlook brings together contributions from a range of international authors from diverse intellectual and professional backgrounds, providing a valuable resource for the policy-making community in Europe to feed their discussion on public investment. The volume both offers sector-specific advice and highlights larger areas which should be prioritized in the policy debate (from transport to social capital, R&D, and the environment).
The outlook is structured into two parts: the chapters of Part I respectively explore public investment trends in France, Germany, Italy, Spain and Europe as a whole, and illuminate how the legacy of the 2008 Global Financial Crisis is one of insufficient public investment. Part II investigates some areas into which resources could be channeled to reverse the recent trend and provide European economies with an adequate public capital stock.
About Francesco Saraceno
? Francesco Saraceno- is a Deputy Department Director at OFCE, the Research Center in Economics of Science Po Paris. He holds PhDs In Economics from Columbia University and the Sapienza University of Rome. His research focuses on the relationship between inequality and macroeconomic performance and European macroeconomic policies. 
Event details
? Floriana Cerniglia and Francesco Saraceno (eds), A European Public Investment Outlook, Open Book Publishers, 2020. Download the book here.
? Tuesday, February 9, 2020 – 6 to 7:30 PM
? The conference will be held in English.